Black walls have always piqued my interest – I absolutely love the contrast of crisp colors on a dense black backdrop. My only question: How to do it without negating the fresh, full-of-life nature of spring?
Enter Vallerie, Style Manager for Hayneedle. A seriously cool style savant, Vallerie was able to capture the relevant trends of the moment and transform them into a room fit for any spring soiree. Check out the video and tips below to hear about how she paired it up to pull it off.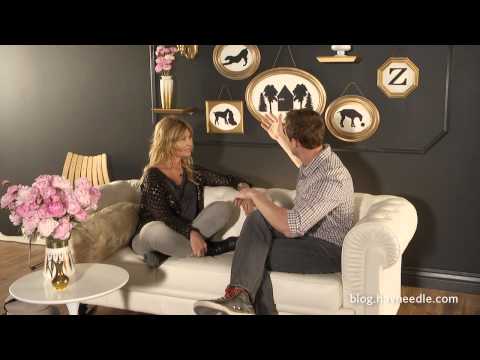 Start with a concept that's relevant and interesting to you – we chose black for spring because we love the polish of a clean black background, plus it's totally on trend this season!
Think about pieces you would like to incorporate and work around them. We started with a white tufted sofa and pedestal table in our set and built up from there.
Pull in elements of the aesthetic you're going for. Many different colors work for spring – we chose pink! Peonies are a quintessential spring flower, so we punched up the color power with bright, fresh blooms.
Highlight a trend or two if you can swing it. We used brass with black to give the room a warm, gilded glow.
Throw in a cost-effective DIY while you're at it. Grab a few frames from a local Goodwill and use some Rub 'N Buff to make 'em shine. Fill with artsy photos, handmade silhouettes, or other funky finds.
When using a mix of styles and textures, keep the color palette simple. One color works best if everything else is a bit busy, otherwise remember the rule of threes – a max of three main colors usually works best.
Texture creates visual interest – we layered rugs made of light, natural fabrics and paired them with a fluffy faux fur bolster and throw, as well as a super-smooth leather sofa.
Shelves are your friend. Use them to display your favorite objets d'art or to switch up your seasonal décor.
Take inspiration from things you like – Val fell in love with some ball chain necklaces she found online and translated the look into the wall art. And since her dogs are her babies, she used them as models to create uber-chic, and totally unexpected, silhouettes.
– Kelly, hayneedle.com editor