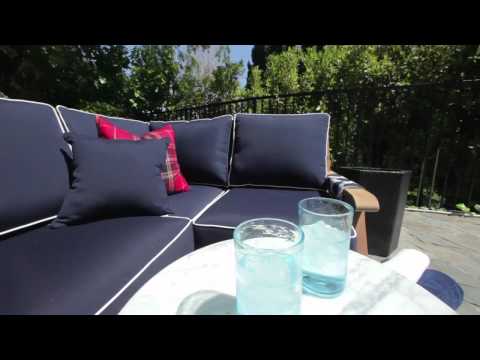 Poolside lounging: something I gave up in my mid-twenties after finding those strappy pool chaises more irritating than a nagging aunt. As I'd try to unwind and get my brain out of work mode, they'd instantly start digging in – first into my skin, then into my soul – until suddenly what was supposed to be fun quickly turned into a battle of strap vs. skin. Keeping this in mind, I stuck with a "No Strappy Seating" rule when outfitting the poolside area of a Sherman Oaks, CA house as a cool, calm waterfront (well, that is if pool water counts as waterfront) living room for a young social couple.
In its existing state, the flagstone-covered area surrounding the deep end of the pool was a wasteland. Aside from a neglected mish-mosh of kinda-sorta patio furniture and unsightly pool supplies, there wasn't really a set-up in which to kick back and enjoy the amazing California weather, read magazines, and take dips in the pool. Well, that is at least until my team and I showed up, pulled out our designer bag of tricks, then went all California preppy on the space – using a Southampton-meets-Los-Angeles sectional rather than a strappy-naggy-aunt-ish lounger. Check it.
Before
Prior to our arrival, the poolside area was totally NOT a focal point … like, at all. Well, unless you consider pool hoses and pool cleaning supplies to be focal points. And if that is the case, I am very sad for you.
After
Thanks to the Royal Teak Miami Sectional, what was a lackluster space is now a rich, preppy poolside living room. Configured as a 6-seater L-shaped sectional, the modular teak mastermind allows the homeowners and their guests to lay out by the pool with just as much comfort and style as the home's indoor spaces. The navy blue/white upholstery is indoor/outdoor so it's durable and totally low-maintenance, and the frame is made of rich teak which is super heavy and sturdy. So when those damn Santa Ana winds come into town, this navy blue bad boy ain't goin' nowhere. To punch some prepster pizzazz into the space (she's from Long Island and well-versed in all things Southampton, and he's sharply dressed in J.Crew), we added custom plaid and tartan pillows in an all-American palette.
With a pool this fancy, we couldn't just toss any old big box retail floats into it. Instead, we stuck with Splashnet Xpress Cool Wave Foam Swimming Pool Floats which have quilted, upholstered construction as well as an integrated head pillow.
Bucking the trend of poolside furniture which looks like, well, poolside furniture, we instead opted to go with the Immer Mid-Century Modern Style End Table-White with a powder-coated steel base and a marble top. Since most of the area is covered, it's safe from the elements. However, should rain actually make its way to Los Angeles (for a few hours one day this summer), the table gets covered by a tarp. With the main level of the house one flight of stairs up, forgetting things like towels and drinkware, once situated near the pool, can be a major annoyance. That being said, towels and serving accessories can be carried down and set out in the Set of 2 Wood Iron Serving Trays.
For pattern with a multi-purpose twist, we used the Chooty & Co. Tidal Bay Square Tablecloth, not only as an option for adding poolside picnic space on the floor in front of the sectional sofa, but also to double as extra cover-up for any bathing-suit-shy guests. Hanging on the arm, it totally looks like a throw blanket; however, it totally is not a throw blanket. Bwahahahaha!
To add layers of life to the space, we brought in three Square Resin Wicker Vista Planters, then outfitted them with bushy greenery. In the event that any of the woven strands get nicked or come loose, replacement strands are also shipped along with the planters. So nice, right?
– Brian Patrick Flynn, HGTV designer/producer; Decor Demon