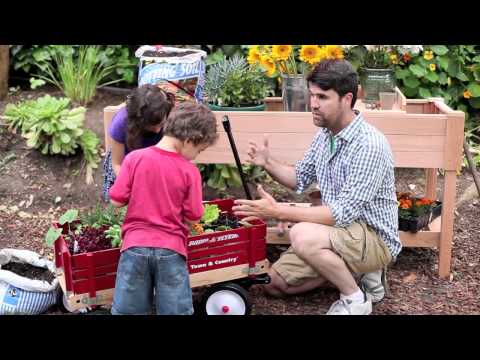 A few weeks ago, I put together my friend Danny's brand new backyard dining space and also turned a barren corner into a cozy family room. Feeling that I'd kinda-sorta left his adorable kids out of the mix, I headed back over to dress up the area previously used as a not-so-purdy-lounge into a kid-centric place for games and gardening. Gardening? I know, right? Believe it or not, both kids are uber-organic, actually enjoy home-grown vegetables, eat eggs from their own chickens, and participate in outdoor-related duties … on purpose. After playing around on hayneedle.com, here's what we did to outfit the space as a colorful place for daughter Zoe and son Mino to play, plant, and pick up their chickens. Yes, I said chickens.
Before
In its existing state, the yard had a hodgepodge of random seating arranged in a what-the-hell-is-going-on-here manner. Since the seating is actually kinda nice, we relocated it to a gathering space in the front of the house.
After
Giving Mino and Zoe stuff to play with was the easy part. While the upper area is now designated for a shaded potting bench and planting activity, the grassy area below is fair game for … well, games. Whether it's playing bocce, using the Franklin Advanced Outdoor Deluxe Croquet Set on the green grass or setting up the St. Pierre Horseshoe Kit in the nearby sandbox, the kids have enough to do to keep them entertained so that bigshot reality TV producer dad Danny and acupuncturist mom Stacy can entertain themselves … with wine.
See, I told you there were chickens. The Cedar Creek Cedar Wood Raised Planter Box (which those nosy chickens can't get enough of) is more Zoe's thing – a place where she can stick teensy weensy seedlings or plantings in colorful pots and watch them grow. The top area is equipped for the actual potting; the area below is meant for storing pots and tools.
The Coolaroo All-Purpose Party Shade Sail … amazeballs. I discovered this product three years ago when I designed a shade-essential outdoor play space for a sun-sensitive toddler. At only $39.99, it's a quick and easy way to add architecture – and sun protection – to almost any type of outdoor space. There are three attachment points which simply get strapped to trees, posts, or exterior walls of buildings, then fastened in place with rope, twine, chain, or straps inserted through integrated metal hardware.
The little red wagon has come a long way. In order to give Mino his own mobile garden, we outfitted a Radio Flyer Town & Country with a layer of burlap and kid-friendly potting supplies. Its removable wooden sides make it easy to load and unload. Plus, the          extra-large wheels make it breezy to roll through the yard.
And lastly, a chicken. Just because it's fun to say chicken, and not something most people expect to find hanging out in the middle of a Los Angeles back yard … with children.
– Brian Patrick Flynn, HGTV designer/producer; Decor Demon