With a deep blue patterned area rug as the room's anchor, our Hayneedle stylist, Val, created a contemporary space full of energy and texture. A mix of patterns and fabrics in colors of the sea and of exotic locales call you to lounge and relax. We asked Val how this room came about.
Shop the entire room at the Style Gallery. And you can watch the video, too!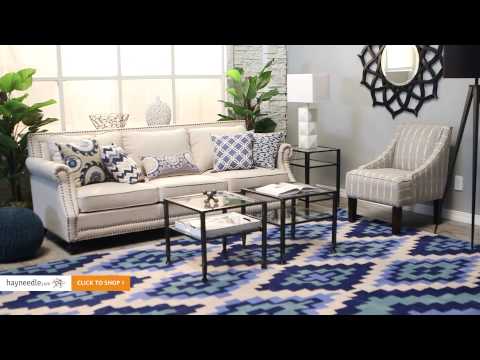 Hayneedle: What inspired you to create this space?
Val: I loved the rug … it reminded me of vacations I've taken, where we experienced cultures rich with artisan traditions and ethnic styles, so I just went in that direction.
HN: What elements really "make" this space work so well?
Val: I think the mix of patterns, all in the same color palette, immediately draws your eye and creates a synergy. The green of the lush plants provides a great contrast. And the sofa grounds all of it in a neutral base that will serve you through all sorts of different looks.
HN: Decor and designing a space can be intimidating. What are a couple of tips you have for getting this look?
Val: Don't be afraid to mix styles. Find a statement piece you love and add accent pieces that meld with that statement piece's main color palette. Limited but dynamic. And don't forget the fresh pop of green that plants always bring.
Val: Also, consider using pairs to bring symmetry and simplicity to a room with mixed styles and patterns. We put two coffee tables together, and we used two matching chairs. This provides balance and options for rearranging later. … You always have options!